From the Times West Virginian
Fairmont, West Virginia
Friday, March 26, 2004
By Misty Poe Phillips
---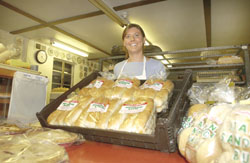 Misty Pallotta of Country Club Bakery displays a few dozen pepperoni rolls for which the small bakery has become famous. Owner Chris Pallotta said the bakery makes on average about 300 dozen rolls five days a week. For those without a calculator, that's more than 900,000 rolls a year.
PHOTO BY DANNY SNYDER
Pepperoni rolls home
The Food Network's 'Roker on the Road' to feature Fairmont's Country Club Bakery

The ingredients listed on a bag of Country Club Bakery pepperoni rolls are simple -- enriched flour, water, yeast, salt and pepperoni.

But there's something that isn't listed there -- nearly 80 years of tradition wrapped up in a roll. The bakery's founder, Giuseppe "Joseph" Argiro, is said to have created the popular regional snack food in 1927 to fit in the lunch pails of local miners.

The bakery changed hands seven years ago -- Fairmont local Chris Pallotta purchased the business he frequented for years and whose baseball team he played for as a child. But some things never change. The recipe, for one. The clients, for another. And the tradition.

Regionally known as the unofficial "Home of the Pepperoni Roll," Country Club Bakery will soon achieve national recognition. A story about pepperoni rolls that will feature the bakery will air in the coming months on The Food Network's show "Roker on the Road."

There have been other offers to highlight the bakery on television programs, Pallotta said. He's turned down those offers.

But this one was a little different, he said.

"Well, it was The Food Network. There are some other shows that maybe you're not familiar with, but this seemed legit," he said.

The production company will be at the little bakery off Country Club Road for most of the day today to document how the snacks are made, from start to finish.

Host Al Roker, of "Today" show fame, will not actually be in Fairmont to witness the pepperoni roll process, Pallotta said.

A member of Roker's production staff, Rosa Cho, is a former Morgantown resident, Pallotta said. She was researching the pepperoni roll for an upcoming show and came across a Web site devoted to the tasty treats that traced their heritage to Fairmont and the bakery.

"The show goes everywhere to find out how people live and what they eat," said Misty Pallotta, an employee at the bakery and Pallotta's sister.

And in Fairmont, people eat pepperoni rolls, she said.

There are two things that make his pepperoni rolls stand out against all others, Pallotta said.

The dough is fresh, not frozen.

And the pepperoni is cut into sticks, not slices.

"Real pepperoni rolls don't have slices of pepperoni," he said.

And because watching how a pepperoni roll is made is only half of the experience, the production staff will be treated to a feast of rolls the way they were intended to be eaten this afternoon. Westchester Village owner Jimmy Sears has offered to host a lunch of pepperoni rolls with all of the fixin's -- sauce, peppers and cheese.